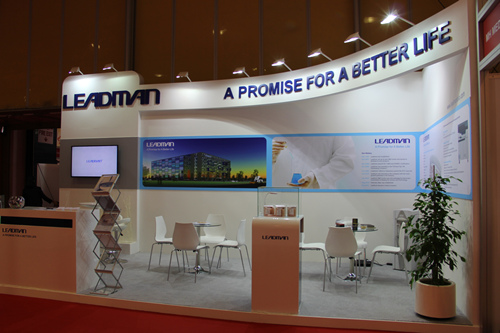 On May 17, GoBroad Health Group President Zhang Jiecheng, Vice President Feng Chen and Zhu Shaohua visited Guangzhou Leadman Biochemistry Co., Ltd. (hereinafter referred to as: Leadman) The delegation visited the R&D and production areas, biosafety labs, standard qPCR labs and other on-site areas, and fully affirmed the operation system and hardware facilities of the company, and then both sides had an in-depth exchange on the development trend of in vitro diagnostics and future market response strategies.
The major controlling party of Leadman, signed a cooperation agreement with GoBroad Health Group to build a research hospital project in Guangzhou Sino-Singapore Knowledge City. Guangzhou Development District Holdings Group Co., Ltd. leverages the resources of its shareholders and fully exploits the resources of its partners to actively support Leadman` s business development.
The strategic cooperation between Leadman and GoBroad Health mainly includes the active exploration of clinical research and clinical application business cooperation in the field of clinical laboratory medicine in the future. Meanwhile, in the innovative research-oriented international hospital project in Guangzhou, the two sides will cooperate around project construction, hardware support and management services to achieve high-quality development of both sides.
About GoBroad Health Group
GoBroad Health Group is a clinically driven innovative medical technology platform, deeply engaged in key disciplines such as hematology, oncology, brain science, clinical medical treatment, clinical research, reference laboratory, medical informatization and big data, etc., building disciplinary talent training system and creating a high-level academic exchange platform, currently operating five general hospitals featuring hematology and solid tumors in Beijing, Shanghai and Guangdong, with another Two more hospitals are under construction. The Group continues to promote the application of new technologies and the transformation of scientific research results to benefit more patients, promote the development of life, health and medical industry, and contribute its wisdom and strength to the cause of human health and wellness.
About Leadman Bio
Beijing Leadman Biochemistry Co., Ltd (hereinafter referred to as: Leadman) was founded in November 1997. It is a high-tech enterprise focusing on R & D, manufacture, and sales of in vitro diagnostic (IVD) products. Equipped with international management concept, innovative R & D team, high-quality products, nationwide marketing network, and excellent technical services, Leadman has become a highly diversified enterprise with core competencies in biochemistry, in vitro diagnostic reagents and instruments.

In December 2013, Leadman moved to its new headquarter base in BDA, Beijing. This complex consists of parts: production, R&D, and office and recreation area. The total construction area is about 100,000 square meters.
Leadman R & D Centre includes Instrument Research Division, Diagnostic Reagents Research Division and Biochemical Raw Materials Research Division. This superb R & D team, 95 percent of which have bachelor degree and above, 46 percent of which have master's or doctoral degree, has invented and generated numerous innovative products and intellectual properties. Leadman Manufacturing Center includes biochemical diagnostic reagents production division and instrument production division. Leadman has imported four sophisticated production lines from VETRACO, Italy, consolidating the formulating, distributing, labeling, capping and packaging, temperature regulated storing steps into a fully automated process. After the upgrade, the capacity of reagents production is increased to 4000 liters per day.

The General Quality Laboratory, the 'heart' of the Leadman manufacture process to deliver the most reliable products, consists of the state-of-the-art Reference Laboratory, QA and QC. Leadman truly believes excellent quality is the root and life of its products in the market. Leadman exceeded in the Quality Management System Assessments conducted by Beijing Food and Drug Administration, and was accredited with YY/T 0287 idt IOS 13458:2003 and GB/T19001 idt ISO 9001:2008 Quality Management System Certifications. Comprehensive quality management system, high end production equipment, innovative R& D team, efficient quality control measures and standardized production operating procedures, ensure the best product quality.